Why It's Worth It to Fight a Traffic Violation
Jan. 24, 2023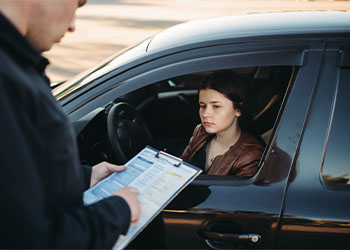 As a motorist in Kansas, you have a duty to obey all traffic laws, rules, and regulations. Committing a traffic offense or violating a traffic law may result in a ticket. Unfortunately, a conviction for a traffic violation may subject you to possible jail time, massive fines, increased auto insurance premiums, and other devastating, life-long consequences. A skilled Kansas criminal defense attorney can enlighten you about why you need to fight your traffic violation charges.
For nearly 20 years, I have devoted my career to handling criminal cases and representing clients in their traffic violation cases. As your legal counsel, I can investigate every aspect of your case and outline an effective defense strategy to help fight your traffic ticket in pursuit of the most favorable outcome for your unique situation. My firm proudly represents clients across Kansas and Missouri, including Lawrence, Overland Park, Olathe, and Lenexa.
Understanding Traffic Violations
A traffic violation occurs when a motorist violates a law guiding vehicle operations on highways, roadways, or streets throughout the state. Some common examples of traffic violations include speeding, driving while under the influence, running a stop sign, driving with a suspended license, reckless driving, or driving without a valid license.
Traffic Tickets and Citations in Kansas
Furthermore, many states across the country use the license points system to track traffic violations and driving offenses. Accumulating a certain amount of points over a specified period may result in license suspension or revocation. However, Kansas doesn't use the point-based system. Rather, drivers who commit traffic violations would be issued traffic tickets, citations, and notes on their driving records.
Furthermore, both moving and non-moving violations will be reported on your driving record. When you commit a traffic offense, a police officer or the Kansas court will go through your driving record to determine whether you are a negligent driver. Depending on the information available on your record, you may receive fines, higher ticket costs, a license suspension, or jail time.
In addition, subsequent violations or too many traffic offenses will result in additional repercussions and harsher penalties. Insurers, rental companies, and potential employers may also go through your driving record. This may result in increased insurance rates and difficulty in securing accommodation or employment. Therefore, it is important that you retain a skilled attorney to help fight your traffic violations.
Possible Penalties for a Traffic Violation
If convicted of a traffic violation in Kansas, possible penalties generally include the following:
Substantial fines and court fees

Jail time (ranging from months or years)

Higher auto insurance premiums

License suspension or revocation

Traffic school

Loss of driving privileges
The far-reaching and severe nature of these penalties and consequences make fighting your traffic violations extremely worth it. A strategic Kansas traffic violations attorney can assess every aspect of your case and outline your most effective defense strategy.
Common Defenses for Traffic Violations
When facing traffic violation allegations, here are some common legal defenses to help fight your charges:
Dispute the evidence against you

Establish that it was a mistake of fact

Dispute the police officer's account of the incident

Establish that your actions or conduct was needed to avoid potential harm

Establish that your actions were lawfully justified
A knowledgeable lawyer can determine your best defenses to protect your driving privileges and avoid the serious penalties and long-term ramifications of a conviction.
Discover Your Options Today
Unfortunately, being convicted of a traffic violation could potentially jeopardize your personal reputation, driving privileges, employment, and future opportunities. Therefore, when charged with a traffic violation, retaining a seasoned criminal defense attorney is imperative for detailed guidance and to help build your defense.
At Chahine Legal LLC, I have the diligence and resource to defend and represent clients in their traffic violation cases. As your legal counsel, I will investigate all of the facts of your case and represent you intelligently at the traffic court. Also, I will fight vigorously to uphold your legal rights, dispute the accusations against you with factual evidence, and help keep your driving record clean.
Contact me at Chahine Legal LLC today to schedule a simple case assessment with a reliable traffic violation defense lawyer. I can offer you personalized legal guidance and skilled representation you can count on. My firm proudly represents clients across Kansas and Missouri, including Lawrence, Overland Park, Olathe, and Lenexa.