What to Expect at Your Arraignment
May 26, 2023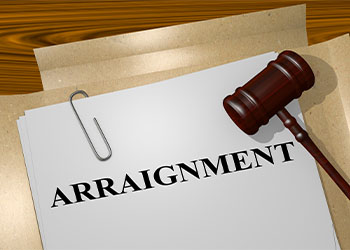 An arraignment is your initial appearance in court when facing criminal charges in Kansas. Many people underestimate the role of arraignment in the criminal process. However, you should not make the mistake of thinking that arraignment is just a formality.
If you have been arrested or are under investigation for a crime and are waiting for your arraignment, you need to understand what happens next and what to expect during your initial appearance in court.
As a criminal defense attorney at Chahine Legal LLC, I help people facing criminal charges make informed decisions about their cases and prepare for what lies ahead. From my office in Lawrence, Kansas, I provide legal counsel throughout the states of Kansas and Missouri, including Overland Park, Lenexa, and Olathe.
What Is an "Arraignment?"
An arraignment is a criminal proceeding where a defendant is brought before a judge, informed of the charges against them, and enters a plea to the charges. The plea can be guilty, not guilty, or no contest. During the arraignment, the judge will also decide on bail or bond, which determines the amount of money that must be paid for the defendant to be released from custody. In Kansas, a date for arraignment is set when a person facing criminal charges is bound over for trial after a preliminary hearing.
Things to Expect at the Arraignment
With proper preparation, you can protect your rights and achieve the best possible outcome in your case. These are some of the things to expect at the arraignment:
1. Formal Charges
At the arraignment, the prosecutor will formally present the charges against you. They will read the charges aloud and provide you with a copy of the charging document. Your attorney can help you understand what the charges against you mean.
2. Plea Options
After the charges have been presented, you will have the opportunity to enter a plea. There are three options: guilty, not guilty, or no contest. Your criminal defense attorney can help you decide what plea to enter based on the evidence against you and the circumstances of your case.
3. Bail or Release Conditions
At the arraignment, the judge will also set your bail or decide if you can be released on your own recognizance. If you are granted bail, you will need to post the full amount or work with a bail bondsman. The judge may also set conditions for your release, such as staying away from certain individuals, not leaving the state, or not possessing firearms, among others.
4. Next Court Date
Depending on the complexity of your case, there may be several court dates before a resolution is reached. At the arraignment, the judge will set the next court date. It is important to mark this date on your calendar and work with your attorney to prepare for the next steps in the legal process.
5. Rights and Consequences
Before you enter a plea, the judge will ensure that you understand your rights and the consequences of your plea. For example, if you plead guilty, you may face jail time, fines, or other penalties. If you plead not guilty and are found guilty at trial, the penalties may be even higher. It is imperative that you make an informed decision about your plea so that you are prepared for the potential consequences.
Do I Need an Attorney for the Arraignment Process?
While you are not legally required to have an attorney for the arraignment process, it is highly recommended that you do. Not having an attorney could potentially lead to missing out on crucial opportunities or agreeing to a plea deal that you should not have.
Here are five benefits of being represented by an attorney during your arraignment:
An attorney can help you in deciding on the correct plea based on evidence and the circumstances of your case;
They can explain the bond or bail process and argue for a reasonable bail amount;
They can help ensure your rights are protected throughout the process;
They can help communicate with prosecutors and negotiate potentially lesser charges or plea deals; and
They can help advise you on what to say and what not to say during the arraignment.
If you are facing an upcoming arraignment, consider getting in touch with an experienced attorney to protect yourself and feel confident that you are properly represented.
Dedicated Legal Counsel: Chahine Legal LLC
If you have been arrested or are under investigation for a crime, do not hesitate to get legal counsel to prepare for what lies ahead. As a criminal defense attorney at Chahine Legal LLC, I can help you deal with your situation when waiting for arraignment. I have the necessary expertise to provide an objective perspective and help advise you on making the best decisions for your case. Contact my office for a free consultation.