What to Expect at Trial
July 7, 2023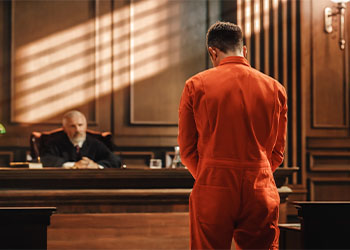 If you have been charged with a crime, you might not know what to expect if your case goes to trial. Trial proceedings can seem complicated, and the prospect of going through a trial can be daunting. Hiring a criminal defense attorney can make the process easier.
If you've been charged with a crime in Kansas, call me, Hatem Chahine, at Chahine Legal LLC in Lawrence. I have more than 20 years of experience as a criminal defense attorney and I am dedicated to fighting for the best outcome for you.
A good criminal defense attorney will tell you what to expect at your trial and support you throughout. Below, I've outlined the basic criminal trial process.
Understanding Kansas Criminal Procedure
After you are charged with a crime and arrested, you will make what is called your "first appearance" in front of a judge and be told the charges you are facing. This is usually when your criminal defense lawyer is appointed and the bond is set.
Next comes the Case Management. If you are being charged with a misdemeanor, you will be set a trial date. If you are being charged with a felony, you will be given a date for the Preliminary Hearing. At the hearing, the judge will determine if there is probable cause to charge you with a felony. If the judge determines that there is enough probable cause, the case will go to trial.
At this point, you will be arraigned in court. You will enter a plea of either "guilty" or "not guilty." Then, your case will go to trial.
Steps to Take Before Your Trial
The most important pre-trial step you can take is to hire an experienced criminal defense attorney. Your attorney can support you during your first appearance (and Preliminary Hearing if applicable) and your arraignment. During the pre-trial process, your attorney will also work with you to gather evidence to support your case.
What to Expect at Your Trial
If you have been charged with a serious offense, you will have a jury trial. In Kansas, 12 jurors are present for a felony and six for a misdemeanor. A jury's vote has to be unanimous in both cases.
After the jury is selected and before the trial begins, the defense and prosecution will make motions "in limine" (or "at the start") to add or exclude evidence from the case. Your attorney will determine whether evidence presented against you at this point is problematic (for example, if a witness is in any way untrustworthy or found to be exaggerating), and will then aim to have this evidence excluded.
The prosecution presents their opening statements first, followed by the defense. The prosecution then presents its case, calling witnesses to testify. The defense then cross-examines the witnesses.
Once the prosecution rests, the defense begins their case, calling witnesses to the stand to testify. The prosecution then cross-examines the defense's witnesses. Once the defense rests, the prosecution presents their rebuttal to the evidence given by the defense.
Following the rebuttal, the prosecution, defense, and the judge come to an agreement about final instructions to give the jury. The prosecution gives their closing argument, followed by the defense. Once again, the prosecution can give a rebuttal to the defense's argument.
The jury deliberates and comes to a unanimous verdict. The case can be retired at this point if the jury does not agree on a verdict—this is called a "hung jury."
If the jury delivers a guilty verdict, the defense can make a post-trial motion to either request a new trial or request ignoring the jury's verdict and acquitting the defendant, arguing that evidence was insufficient to convict. If these motions are denied, the sentencing proceeds.
Steps to Take Following Your Trial
If you are found guilty, you and your lawyer can still take steps post-trial to fight the conviction. Your lawyer can appeal the sentence based on errors made by the judge during the trial or if they believe the trial was unfair. In Kansas, you and your lawyer can file an appeal with the Kansas Court of Appeals. Your attorney will then argue to the judges of this court that an error was made during your trial or that the trial was unfair.
For Your Next Steps, We Are Here for You
As you can see, a good criminal defense attorney is an invaluable asset to any defendant. At Chahine Legal LLC, I will work closely with you to help you craft a good defense and fight for the best possible outcome. I pride myself on my professionalism, knowledge, and client satisfaction. From my office in Lawrence, Kansas, I also serve the surrounding areas of Olathe, Overland Park, and Lenexa. Reach out to me today to take your next steps forward.